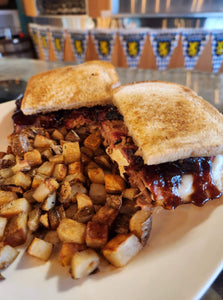 Tasting Room Event 10/21: Beyond Q and Happy Bassett Brewing Co.
Regular price
$12.50
$0.00
Unit price
per
We would love to have you join us at the Blue Jazz Coffee Roasters Tasting Room on Saturday morning, 10/21, from 9-11AM (doors don't open until 9).  Help us reach more of Topeka by sharing this fun opportunity to see a coffee roastery, support a local culinary professional, and have some great community times with your friends and family.  Bring a big group!
For this event, Tim from Beyond Q will be serving up a delicious, hearty breakfast sandwich on sourdough, filled with brisket, egg, smoked provolone cheese and Midnight Coffee BBQ Sauce (made with Blue Jazz of course!).  Happy Bassett will also have a cold beer on tap for purchase.  Choose from either Barista Blonde (made with our Summertime Cold Brew), or Octoberfest.
We have found that these events are best enjoyed when you arrive at some point within the first 15 minutes of our opening, grab a coffee and settle in for a bit, and then jump in the food line at your convenience.  Food will be served until 10AM (we want our guest chefs to be able to also enjoy some conversation and community with us for that last hour).
We will have our usual complementary coffee set out, and the cash/credit espresso bar will be open with your favorite hand crafted cold brew or latte.
As always, lots of Topeka fun, community, love and togetherness over great flavors! Looking forward to seeing you all.  
No cancellations/refunds after 10/18.  Feel free to offer unused reservations to your friends.  Share this product link with anybody you purchase tickets for so they can be in the know!
—The Blue Jazz Coffee Crew— (Kevin, Dustin, Addie, Holly and Zach)
Event Location:  
Blue Jazz Coffee Roasters
6540 SE Johnston St.
Topeka, KS 66619
Blue Jazz is a second generation, family owned coffee company.  We have challenged ourselves to maximize the amount of good we can layer into the fiber of who we are as a company while still remaining profitable.  Over time, it is our prayer that this list grows beyond where we could have ever dreamed.
One of the current ways we add value here in our home town of Topeka, KS includes promoting community and featuring local businesses through our Tasting Room Events we host in our roasting facility.  Our goal in these events is to bring a large group together to celebrate being together in person, and to enjoy excellent locally produced goods and flavors.  We feel this is something worth investing our time and profits in.  Our world is in desperate need of more face-time with each other and overall support of our local businesses.
Trash Mountain Project:  A Meal 4 Every Bag Program
Another way we have built added value into our product is through our "Meal 4 Every Bag Program," hosted by Trash Mountain Project.  Trash Mountain Project exists to develop Christ-centered environments for children and families living in trash dump communities worldwide.  Long story short, When you buy a bag of Blue Jazz Coffee from any of our available outlets, you are also paying for a meal for a child in need at a trash dump community.  To date, we have been able to provide over 160,000 meals through the program.
Dialogue Coffee House is a business that is creating change in everyday pace of life in a diverse culture, celebrating individuals of ALL abilities.  Beyond our coffee roasting duties, we have been blessed to consult and help implement the best possible equipment package to equip their staff for excellence, while allowing more inclusive participation.  Dialogue has expanded from one location in early 2023, to three locations by the end of the year.  We celebrate their mission and continued growth!
---
Share this Product
---